Oligo Synthesis, Primers & Probes (BIONEER)
BIONEER is one of the world's leading suppliers of synthetic oligonucleotides (DNA and RNA).
In-house production of raw materials and automated oligo synthesis and purification systems result in superior quality oligonucleotides.

Every BIONEER oligonucleotide is purified via the unique Bio-RP cartridge purification technology resulting in outstanding, near HPLC quality oligo with 100% guarantee for your PCR or qPCR.
With high throughput oligo synthesis facilities around the world, BIONEER's daily capacity is unsurpassed.
BIONEER is unrivalled in its ability to address the needs of customers requiring a few oligonucleotides on a regular basis and those customers that require very large numbers of oligonucleotides on a less frequent basis.
Free of charge Bio-RP purification - near HPLC purity at a standard oligo price!
Broad range of modifications - even more than you can see on the homepage, just inquire!
Learn more about BIONEER Oligo Synthesis Service & Reagents, including:
- Standard custom oligonucleotides
- High Throughput custom oligonucleotides
- Modified Oligos
- Dual Labeled Probes (EBQ-Next Generation, Dark Quencher Modifications)
- Extrendamers
- Large Scale custom oligonucleotides
- Custom RNA
- DNA/RNA synthesis reagents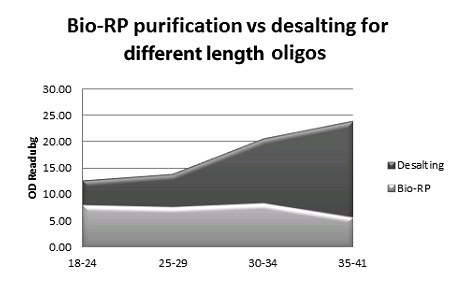 Oligos were tested for concentration after desalting and then by Bio-RP cartridge purification.
Note inflated OD readings when deprotection/desalting alone is used.