Description
AccuPower® HotStart PCR PreMix is a PCR master mix containing a thermostable DNA polymerase, thermostable pyrophosphatase, reaction buffer, dNTPs, tracking dye, and patented stabilizer in a ready to use hotstart PCR master mix.
Bioneer uses a unique enzyme-mediated HotStart PCR that provides robust and reliable results. Bioneer's Top DNA Polymerase is inhibited at lower temperatures (< 70°C) by pyrophosphate. However, Top DNA Polymerase is rendered fully active at temperatures above 70°C via pyrophosphate hydrolysis with our thermostable pyrophosphatase. This prevents the formation of mis-primed products and primer-dimers during the reaction set up process resulting in improved PCR specificity. It is ideal for nucleic acid amplification reactions involving complex genomic or cDNA templates, very low copy targets, and multiplex reactions.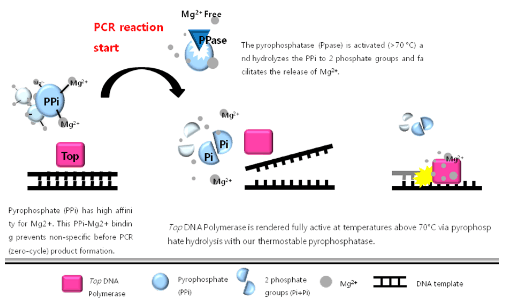 Pyrophosphate (PPi) has high affinity for Mg2+. By adding PPi to the reaction mixture, the Mg2+ ions necessary for normal PCR are bound, preventing DNA polymerase activity. This PPi-Mg2+ binding prevents non-specific before PCR (zero-cycle) product formation. Upon thermal cycling, the pyrophosphatase (PPase) that is also added to the mixture is activated (>70°C) and hydrolyzes the PPi to 2 phosphate groups and facilitates the release of Mg2+, which is then available for DNA polymerase to use and resume normal activity.
Specifications
Specifications
5' to 3' exonuclease activity: No
3' to 5' exonuclease activity: No
Terminal transferase activity: Yes
Fragment Size: Up to 12 kb
Applications
HotStart PCR up to 12 kb
PCR with complex genomic templates/low copy
Templates cDNA
Multiplex PCR reactions
Supporting Data
References
Resources
You may also be interested in the following product(s)