Description
Bioneer Tissue Homogenization Set contains simple and convenient tools and consumables for a fast homogenization of mammalian tissues prior to DNA or RNA extraction. It allows to speed up the homogenization process and to get homogeneous sample for an efficient lysis and high yields of subsequent NA extraction procedures. The process is made easy due to Bioneer specialized tissue filter tube and tissue stick which are used only once, but can be purchased separate as consumables. The tissue filter tube box can be conveniently used in the lab as as sample storage rack.
Procedure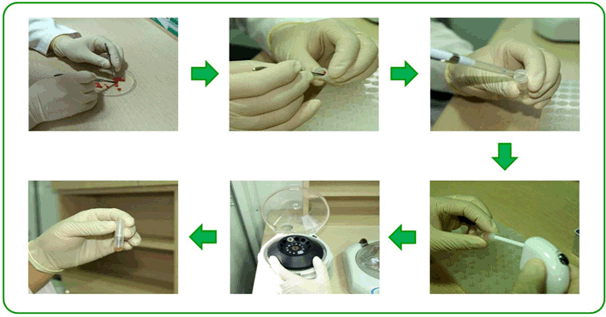 Recommendations
- Do not use more than 50mg of animal tissue onto the Tissue filter tube. It will deduce the disruption efficiency.
- Do not add more than 400ul of the Tissue lysis buffer into the Tissue filter tube to prevent spill over during homogenization.
- Insufficient homogenization will affect the quality of the extracted genomic DNA and total RNA, low yield and purity.
- Tissue mixer works with 1.5V alkaline battery(AA size).
Content
Tissue Homogenization Set (KA-7030)
Tissue Stick - 100 ea
Tissue Filter Tube - 100ea
Tissue Mixer - 1 ea
Tissue Stick (KA-7031)
Tissue Stick - 100 ea
Tissue Filter Tube (KA-7032)
Tissue Filter Tube - 100ea
Tissue Blender (KA-7033) Tissue Blender - 1 ea
Specifications
Content
| | | |
| --- | --- | --- |
| Product | Cat. No. | Size |
| Tissue homogenization Set | KA-7030 | 1 set (icludes below listed consumables) |
| Tissue stick | KA-7031 | 100 ea |
| Tissue filter tube | KA-7032 | 100 ea |
| Tissue Blender (mixer) | KA-7033 | 1 ea |
Supporting Data
Brochure
References
Resources
You may also be interested in the following product(s)