Description
ExiPrep® Plus Plant Genomic DNA Kit is designed for automated DNA extraction from plants using ExiPrep® instrument.
Plant Genomic DNA Kit uses a unique Plant lysis buffer with Proteinase K to efficiently dissrupt plant tissues and proteins for efficient extraction of genomic DNA.The binding buffer and silica magnetic particles will bind DNA to the surface of the beads. The wells are then subject to a magnetic field, forcing the DNA-bound silica magnetic particles to remain within the container while the reaction mixture and cellular waste are removed. Three types of washing buffers are introduced sequentially in the next step to remove the remainder of cellular waste products. The washing buffers are then pipetted off, while the DNA-bound silica magnetic particles remain bound by the magnetic field. DNase-free elution buffer is then introduced to the silica magnetic particles to release the bound and now purified DNA.
The product is produced under ISO 9001 quality standards by an automated production facility to provide you with high-quality performance. The buffer composition was developed to extract high purity and high yield NA suitable for the use in all further applications.The extraction protocols programmed on the instrument were optimized for maximum performance. Everybody can extract NA of high purity and yield using Bioneer instruments and automated kits.
Procedure
Experimental Data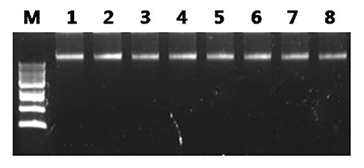 Fig. 1 Agarose gel electrophoresis results of genomic DNA extracted from Plant leaf tissue
Results of gel electrophoresis of genomic DNA extracted from plant leaf tissue (spinach, 100mg). Yields were on average 3-5ug and purities (A260/A280) were at least (average) 1.8. Also, to observe cross-contamination that may occur during the extraction process, the plant leaf tissues were placed in a checkerboard pattern, and the rest of the wells were filled with D.W. No cross-contamination could be detected. M; Size marker, S; Extraction with plant leaf tissue sample, B; Extraction with D.W only.
Specifications
Specifications
| | |
| --- | --- |
| Starting culture volume | up to 100 mg |
| Elution volume | 50 - 100 ul |
| Expected Yield | 3 - 5 ug |
| Expected Purity (A260/280) | > 1.8 |
Content
| | | |
| --- | --- | --- |
| Components | Quantity | Note |
| Buffer Cartridge ① | 6 ea | |
| Buffer Cartridge ② | 6 ea | |
| Plant Lysis buffer ① | 1 ea | 25 ml |
| Plant Lysis buffer ② | 1 ea | 25 ml |
| Disposable filter tip | 3 pack | 32 ea/pack |
| Elution tube | 1 pack | 12 ea/pack |
| Manual | 1 ea | |
Supporting Data
Manual
Brochure
References
Resources
You may also be interested in the following product(s)