Description
AccuPower® PreMix series are an innovative PCR mastermixes with a wide range of applications and unparalleled ease of use and stability. Mastermixes include all reaction components and are prealiquoted into tubes or plates and lyophilized with a patented stabilizer that maintains full activity for over one month at room temperature, and two years in the freezer. In addition, PCR enzyme stability is maintained at 95°C for up to 3 times longer than Taq DNA polymerase alone, making our mastermixes an ideal choice for better yields and G:C rich templates.
The AccuPower® DualStar™ qPCR PreMix contains all reaction components for highly specific probe-based qPCR in prealiquoted lyophilized format and provides high sensitivity, low background amplification. Unique hot start enzyme in combination with patented stabilizer allows for a greater specificity and more robust performance. Just add template, primers and labeled probe into DualStar™ qPCR PreMix and enjoy good and reproducible results. Lyophilized mastermix is stable at room temperature for a month and for 2 years at -20oC, it is provided with water for resolving the lyophilizate.
AccuPower® DualStar™ qPCR PreMix is available in different versions, each optimized for a certain qPCR cycler. For instruments where ROX passive reference dye is required (like ABI 7500), the mix is supplied with a separate ROX vial.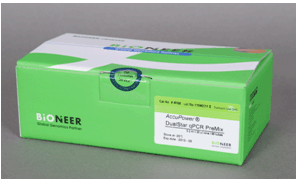 Specifications
Specifications
5' to 3' exonuclease: Yes
3' to 5' exonuclease: No
3' – A Overhang: Yes
Fragment size: ~1 kb
Applications
Real-Time quantification of DNA and cDNA targets
Gene expression profiling
Microbial & viral pathogen detection
Evaluation of probe-based real-time PCR system
Supporting Data
References
Resources
You may also be interested in the following product(s)